ABOUT Us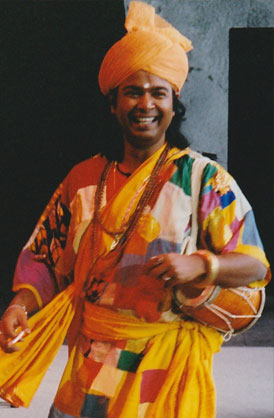 Baul Bishwa
wandering minstrels music of India
The band Baul Bishwa named by Bapi Das Baul, started as a family project. It's essence lies in the roots of Eight Generations of Baul-sufi music which originated in rural India. While staying faithful to the basic elements of the Bauls-sufi music, Bapi did bring in a personal touch by making minor changes to the melody, rhythm and singing in an innovative way.
Baul Bishwa immideatly became very popular in India. In this paved the way to Baul Biswa's international acclamation. They were then able to familiarize the world to the "Baul's" music and culture.
Bapi Das Baul introduced Baul music's typical authentic instruments like Khamak, Ektara, dugi, dotara, dubki, flute and a few other into the musical domain of the world. Even now he is spreading the philosophy of the Baul-sufi, which is simple but real "Love will make you free and brings joy". What is this message actually all about? Inside we are all the same, people wanting to love and be loved.
Baul –Sufi's are wandering minstrels like nomads, BAUL BISHWA preserve one of the oldest and fascinating Indian tradition. Born to meet of different religious, different cultures expressions, and their music represents a particular type of folk music, influenced by Hinduism, Buddhism as well as the fakir-Sufism mix consecrate their existence to dance, music and singing, conveying intimate joy, universal brotherhood, discovering of divine in human's heart. It is traditionally sung in open air amidst the villager's. Almost all the songs were passed down through generations verbally. The language of the songs are continuously modernized, thus making it relevant and meaningful to the present scenario.
This leads to the ultimate freedom for all of us, the freedom to be able to be yourself anywhere, any time, with anybody, across cultures, believes, frontiers, religions or any other sphere, and be accepted like you are or you feel. It is no longer about who you have to be but who you are deep down inside in yourself and your heart and soul mainly to be yourself.
In 1994,Bapi Das Baul became the artistic leader of the band BAUL BISHWA. They travelled extensively all over World. He played at the biggest world music festivals around the world like WOMAD festival(UK), WOMAD festival (USA), WOMAD festival (Spain), Théâtre de la Ville Paris(F), LA MAR DE MÚSICAS(Spain), SEVILLA festival ,POPDEEUROPE(G), PALEO festival(CH), Transmusicales de Rennes(F), CANNES music festival(F), NANCY JAZZ festival(F), UK Mela festival(F), COLOUR festival(CZ), Martinique festival, Turkey festival, ADELAIDE festival (Aus), New Zealand festival, Asia festivals, RAIN FOREST festival(Malaysia) and more.
Till now BaulBishwa released several CD's and Video CD's.
One deserves special attention namely "Songs of Love and Ecstasy", produced by womad& real world (UK), 6TH SENSE (IRIS)(F), JAAN SUFI (heven&earth)(G), MADNESS & HAPPYNESS(ARC music, UK), BAUL CONNECTION(raga music)(INDIA)ROUGH GUIDE OF INDIA(world music)(UK), LALAN PALAN(Team ektara)(India)and many others. Some great compilation CD's also released through all over.
Everywhere the public was captured by the charisma and virtuosity of BaulBishwa group.
Still nowadays Bapi Das Baul and BaulBishwa are highly appreciated worldwide for there magical music performance in festivals and venus.